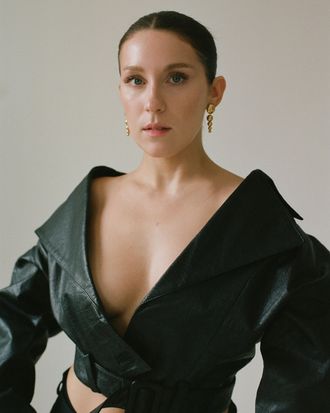 "I wanted to start a business that represented a genuinely friendly vision of fashion, hospitality, and New York," said Hannah Richtman, owner of The Break, a store in New York City.
Opened in 2016, the store sells a selection of homewares, beauty products, vintage, and a curated grouping of contemporary fashion from small businesses around the world.
The Break has grown through in-store events because it's always been important to Richtman to build a community.
"Community is my greatest source of energy," she said. "There is nothing more thrilling than being surrounded by passion, ingenuity, altruism, and talent."
We spoke to Richtman about sex, uniform dressing, and a few "naughty things" she does.
What's one thing from The Break that's especially meaningful to you?When I opened our first store, I wanted to venture into scents, but I didn't have the expertise. It was Kismet when Kimberly of Anai Candles reached out. We went through more than 50 samples before landing on the perfect scents for morning and night. Both are very intimate, with 9 a.m. being fresh and light and 7 p.m. being her muskier, sultrier sister. They've become kind of cult-y, and I'm so thrilled. I'm currently redesigning the packaging, and I can't wait to share the next iteration.
How do you thank someone for a gift?
Sex, usually. Kidding! I aspire to be the person who sends handwritten notes, but I'm more of a multiple bottles of wine and an hours-long-chat type of thankful.
What would you never wear?
Taste and style evolve, so I can't with good conscience say never to anything. I've worn some incredibly cringeworthy looks, but they made me happy at the time. As I've gotten older, I have leaned into uniform dressing and find that I gravitate toward consistent silhouettes that I know suit my shape. For me, that's shoulder pads, high waists, wide legs, knee-high boots, and cropped tops.
What's your dream vacation?
Unlimited natural wine, no hangovers, hot baths, hot sex, meaningful conversations, long lunches, longer dinners, and late sunsets. Two weeks minimum.
What's a good book on your coffee table right now?
Bathrooms: Simply Add Water by Terence Conran, Her Body and Other Parties, and The Untethered Soul.
Last show you binge-watched?
The Great on Hulu.
What's your guilty pleasure?
I try not to feel guilty about anything that brings me pleasure. With that being said, here's a few naughty things I definitely do:
– Absolutely nothing for an entire day.
– Driving with the windows down and the AC on.
– Going straight to bed without taking my makeup off.
– "One more bottle of wine."
Secret to hosting a good party?
Generosity of spirit(s).
What is a trend that you like right now?
Conscious consumption. I think we should all build wardrobes that will stand the test of time. Invest in pieces that will never go out of style. Crispy button-downs and blazers are timeless. Paired with a bikini top, vintage jeans, and a chunky necklace become very now.
One you don't understand?
Why we're abandoning trends so quickly?
Favorite restaurant in New York?
My own kitchen. My boyfriend is a professional chef and the best in the world, IMO.
What's the one thing you could eat every day for the rest of your life?
I recently was asked what's the best thing about life, and my immediate thought was pasta. So, pasta.
Shoes you wear most often?
I wear boots every single day — boots to work, boots to go out, boots to walk my dog, boots to the beach. I do not know an open toe, and yes, my feet are perfectly comfortable.
What are five inanimate objects that bring you joy?
"Anything by Mondo Mondo, but this necklace in particular is just pure joy."
"I have loved watching Isa Boulder grow. Their pieces are truly innovative, sexy, and strong. I want everything."
"The Oura ring is one of the best and most addictive investments I've made for my health. I look forward to waking up and checking the app every morning. Tracking my stats gives me a sense of control and peace."
"EltaMD makes the best sunscreen. It's the perfect texture and leaves your complexion absolutely glowing. Plus, it doesn't burn your eyes. 10/10."
"Dum dum yum yum. I refer to this wine as the flirt."