Updated 2:50 p.m.
A special five-judge panel released new congressional and legislative maps Tuesday setting the political playing field for Minnesota for the next 10 years. 
The newly drawn congressional districts keep the 7th in western Minnesota and extend the 8th west to take in all the state's northern Native American reservations and south to the northeast metro area.
The 2nd District, which is arguably the state's most politically competitive, contracts — losing Goodhue and Wabasha Counties. That could be a positive development for incumbent DFL Rep. Angie Craig, who faces a rematch of the 2020 race this year with Republican Tyler Kistner.
1 of 2
2 of 2
"We are not positioned to draw entirely new congressional districts, as the legislature could choose to do," the panel writes. "Rather, we start with the existing districts, changing them as necessary to remedy the constitutional defect by applying politically neutral redistricting principles. Still, our restrained approach does not leave any congressional district unchanged. Nor does it mean that all Minnesotans will view the changes as insubstantial."
On changes to the 2nd District, the court order reads: "The new second district loses population by moving Goodhue and Wabasha Counties to the first district. We make two more changes to the second district to balance population in a manner that reflects its character. First, because southern Woodbury increasingly associates with its neighbors in south Washington County — sharing schools and other services — we add that part of Woodbury to the second district."
1 of 2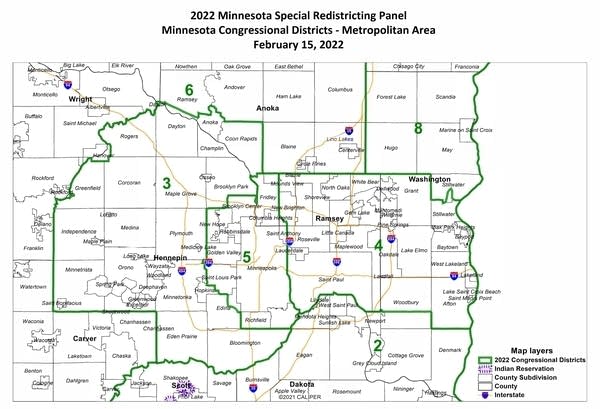 2 of 2
Craig thanked the panel for its work.
"Today, I am proud to announce that I will seek re-election in Minnesota's newly-drawn Second Congressional District – where I will officially be launching my campaign in the coming weeks," Craig said in a statement. "While I am, of course, disappointed that the new boundaries do not include all of the cities and towns that I currently represent in Congress, I look forward to being the voice of several new communities across Minnesota. I look forward to earning voters' support across the new MN-02 and ensuring that they have a voice in Washington who prioritizes them over special interests and works to find common ground."
"Our campaign is excited for the opportunity to grow our grassroots movement by listening to and serving hardworking Minnesota families in Dakota, Scott, Rice, southern Washington, and Le Sueur counties," said Kistner in a statement.
At the Minnesota Capitol reaction to new legislative districts was initially muted as lawmakers got their first look at the map.
"With the maps now released from the judicial panel, we will begin the process of analyzing the information, which will take some time," said House Speaker Melissa Hortman, DFL-Brooklyn Park in a statement.
The new legislative maps push more districts toward the metropolitan area and will pit multiple incumbents against each other.
Senate Majority Leader Jeremy Miller, R-Winona said several rural districts got larger and there are more districts in and around the Twin Cities.
"Based on our initial analysis, they appear to be fair," Miller said of the districts. "I was disappointed to see more Republican pairings compared to Democrat pairings."
All 201 legislative seats are on November's ballot. Republicans currently control the Senate while Democrats have the House majority.
Peter Wattson, a former Minnesota Senate lawyer and lead plaintiff in a lawsuit that challenged the redistricting process, said he was happy with the court's plan.
"The plan is quite similar to the one I sent to the Senate and House redistricting committees on Jan. 15, as one I thought they could both live with," Wattson said. "I'm pleased to see the panel was thinking along the same lines."
Redistricting happens once every 10 years after the census. The goal is to make all districts for the Legislature and Congress equal in population.
Minnesota kept eight congressional districts, but the lines shifted because of population changes within them.
In November, the court issued the principles it would follow and said the ideal U.S. House district would contain 713,312 people, a state Senate district 85,172 and ideal state House district 42,586. The panel said it would aim to keep communities intact as much as possible, give heed to communities of interest and craft lines that are "reasonably compact."
State law gives the Legislature until 25 weeks before the primary to complete the job. Because the Legislature and governor were unable to agree on a plan, drawing the maps fell to the panel appointed by the Minnesota Supreme Court. 
Judges Louise Bjorkman, Diane Bratvold, Jay Carlson, Juanita Freeman and Jodi Williamson considered plans submitted by four groups of citizens who filed legal cases to play a role in the redistricting process and maps proposed by House Democrats and House and Senate Republicans. 
Elections following redistricting tend to produce heavy turnover in the Legislature. Already, dozens of incumbents say they'll leave their current seats, either to retire or to seek a different office. 
Filing for candidates runs from May 17-31, with the primary election on Aug. 9.
Election Day is Nov. 8.
How were you redistricted?
MPR News created an interactive tool to let you see how you'll be impacted by the redistricting. Just type your address into the form below and click "Go!"
Can't see the tool? Click here! Link not working? Try again in a few minutes. We're experiencing a high volume of users.
This is a developing story. Check back for updates.
You make MPR News possible. Individual donations are behind the clarity in coverage from our reporters across the state, stories that connect us, and conversations that provide perspectives. Help ensure MPR remains a resource that brings Minnesotans together.